I've recently been sent some
TOTAL Greek-style yoghurt
to try. And when I say some I mean there may actually be a global yoghurt shortage now, because it is all in my freezer! They sent their full-fat, 2%, fat-free and 2% with honey yoghurts to sample, so don't be surprised if yoghurt crops up quite a bit over the next few months. It's a good thing yoghurt freezes well.
To go with my
Cooking the Books
curry dinner, I decided to make an Indian-influenced yoghurt dessert. As it happens, we were far too full for dessert, so we ate it the next day.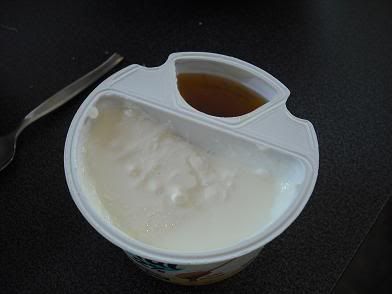 I decided to use the TOTAL honey yoghurt for my dessert. I was adding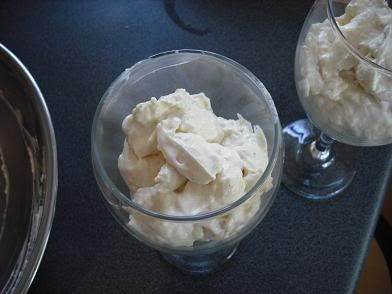 some cream to it, so having a lower fat content was a good thing! And when I tasted it, the honey was very strong and sweet, so I knew it would provide a good flavour and do away with the need for additional sweetener. It is actually a bit too sweet for me on its own, but in this mousse it is perfect.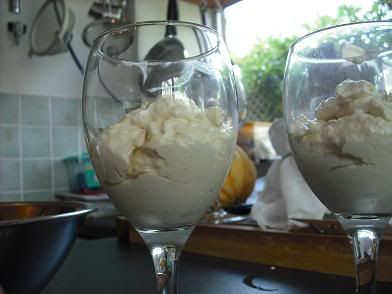 Saffron Honey Yoghurt Mousse
(serves 2)
1tsp gelatin
2tbs hot water
pinch saffron threads
1 tub TOTAL 2% yoghurt with honey
100ml double cream
1/2 tsp vanilla bean paste
Sprinkle the saffron threads over the hot water in a small cup and leave to steep for 5 minutes. Sprinkle the gelatine over the (now warm) water and leave to sponge for a few minutes. Warm half the cream in a small saucepan and add the saffron/gelatin mix, stirring until the gelatin has dissolved and the cream is streaked with gold. Remove from the heat.
Whip the other half of the cream with the vanilla bean paste until it forms soft peaks. Fold in the yoghurt and honey, then fold in the saffron cream. Pile into 2 glasses and chill for a couple of hours until set.