I hate wasting food. I really, really hate it. Even so, I was faintly worried that I was taking frugality a bit too far with this one.
As an occasional treat, on a Friday evening Paul and I will get takeaway fish and chips from the shop around the corner. It's very good, but the portions of chips are enormous. We usually get a medium chips to share (they only do medium and large) and even then we can only eat about 1/3 of them.
The last time we did this I looked at the enormous pile of leftover chips and declared that enough was enough - I couldn't bring myself to throw them away.
But what to do with them? They don't reheat to the same glory, so I needed to come up with a different form to present them in. And thus was born...
Leftover chip hash
(serves 2)
Leftover chips (French fries people, not crisps)
1 onion, diced
1 packet of bacon, cut into lardons
2 cloves of garlic, chopped
handful of parsley, chopped
eggs to serve
Put your bacon into a saute pan and cook gently until the fat starts to render out. Add your onion and stir until translucent. Turn up the heat and add the chips, cut into smaller chunks, and the garlic, and stir until everything is beginning to mush in places and crisp in places. Season generously with black pepper (no extra salt, don't be silly) and chopped parsley. Top with fried or poached eggs.
Delicious. I almost wished I had a hangover, as I realised what perfect hangover food this was. And then I wished I had a bloody mary, because that would really be an epic food match. I will never throw away chips again.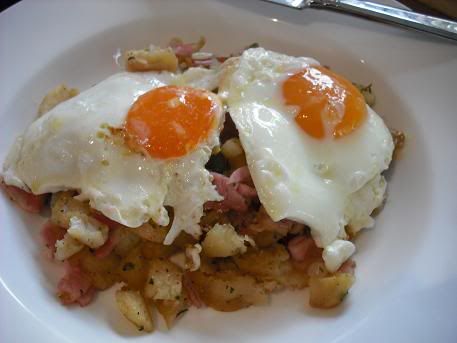 ETA Simona from the lovely bi-lingual blog
briciole
put me on to the Love Food, Hate Waste website. It's a campaign I am very happy to support!