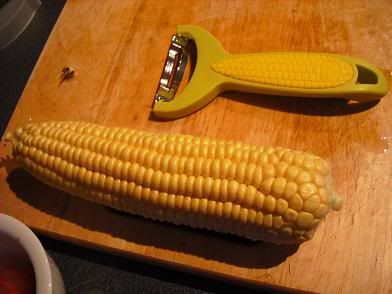 I can't remember if it was for my birthday or Christmas last year that my aunt sent me this nifty gadget: the corn zipper. What I do know is that it has languished in the drawer ever since. Corn has been out of season.
I had been hoping that the maiden voyage of the corn zipper would be on some home-grown sweetcorn, but alas it was not to be. The plants sprouted quickly enough, and formed ears like good little plantlets, but then totally failed to form kernels.
But all is not lost. Waving the flag for our gardening abilities, this soup does contain homegrown cherry tomatoes and chilli. And it takes less than 10 minutes to make, including going out and picking your tomatoes, which is nice.
It is a real taste of late summer and absolutely delicious, so I am proud to send this over to
Deb's Kahakai Kitchen
for her Souper (soup, salad and sammie) Sunday event.
Sweetcorn and Tomato Chowder
(serves 1)
splash of olive oil
100g cubed pancetta
1 shallot, minced
handful of cherry tomatoes, halved
1 green chilli, deseeded and sliced
kernels from 1 cob of corn
150ml semiskimmed milk (2%)
Over a medium heat, saute the pancetta in a tiny splash of olive oil until it begins to crisp, then add the shallot. When the shallot is translucent add the cherry tomatoes and green chilli, and stir until the tomatoes collapse. Add the corn and milk and reduce the heat. Bring slowly to a simmer. Season with freshly ground pepper and eat.