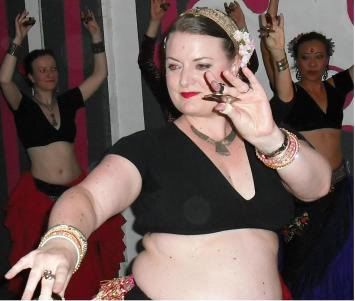 My dancing has been coming along quite well of late. This is me in my first ATS public performance a couple of months ago, which was nerve-wracking but unexpectedly fun.
The downside to this progress is that I have moved into a more advanced class. Which in itself is great, but it means that on a Tuesday I have a very late night, not getting home until after 10, or closer to 11 if the trains don't cooperate. And THAT means that I get home too late to cook, but having danced for 2 hours I really need some food.
I've been working around that by making a series of portable snacks. Lots of oat and nut based things, to give sustained energy and stop me from buying chocolate bars at the station. So far, I've made a couple of different kinds of flapjack, nuts with a spicy coating,
Joy of Baking's lovely lemon bars
, and a strangely successful carrot cheesecake swirl bar. Wish I could remember how I made them.