I've mentioned before that we don't eat a lot of potatoes at home. I find that too much starch in the evening makes my reflux kick up, and Paul has this whole big thing about cheap bulk fillers being the cause of the decline of Western society.
But for experimental purposes, we were both pretty keen to try growing our own spuds.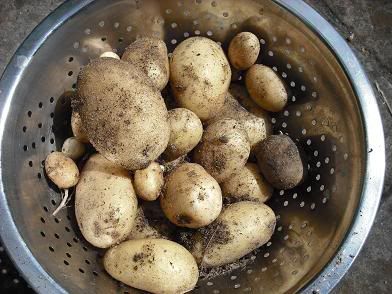 We bought some maris piper seed potatoes, figuring that they would be a pretty versatile potato, and planted 2 in deep grow bags.
Clearly, we didn't get an enormous crop, but that colanderful of potatoes lasted the two of us for 3 meals, which is pretty economical I think.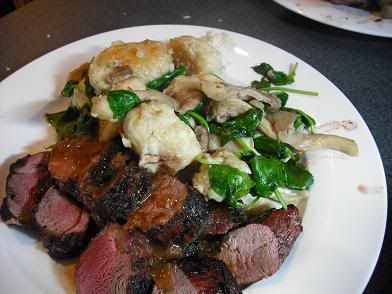 I made some gnocchi, which I panfried with butter, oyster mushrooms, garlic and spinach. They were served on the side of barbecued wild boar fillet, with a red wine and quince reduction. The gnocchi were very good - and the potatoes were perfect for them - but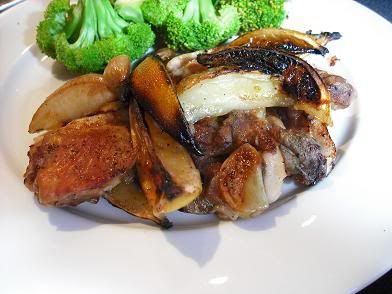 the wild boar fillets (from
Fen Farm Venison
) were so amazing that they totally eclipsed the spuds.
I also made a version of
Nigella's slow cooked lemon garlic chicken
, adding wedges of the potato. I overcooked it, but the potatoes were still excellent in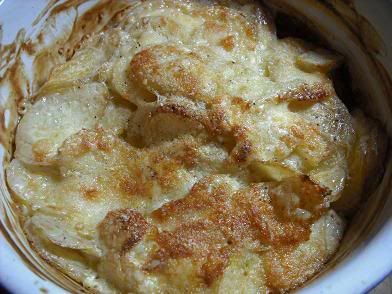 it. I've never made that dish before and I do think it deserves a rematch.
But the final, and greatest usage was in a gratin dauphinois. Utter, utter perfection. Served with barbecued venison haunch and a red currant sauce, it was a first taste of winter cooking to come.