I was recently sent some samples* of Denhay's British dry-cured bacon from both their own and their
spoiltpig
range.
Now, as you may have noticed, I really like bacon. I've
made my own
a couple of times, I consider it a household staple and I have a great deal of appreciation for the folks who take the time to make a good one, so I was very keen to put the Denhay product through its paces.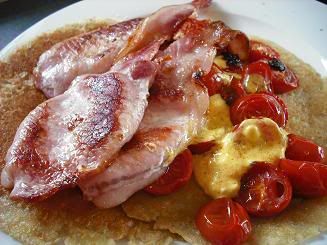 The first cab out of the rank was the spoiltpig smoked back bacon. I simply fried it and served it with some hot,
fresh Staffordshire oatcakes
(an oaty, yeast-raised pancake) and some
roasted tomatoes with a saffron-labneh dressing
.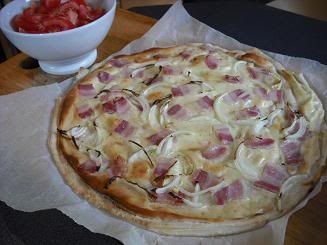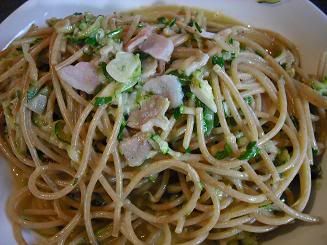 My only criticism of the bacon is that it is cut too thinly. I like quite a thick cut bacon. Aside from that, it crisped well, it didn't sweat or shrink in the pan, and it had an excellent long, porky flavour. It tastes like a very straightforward salt cure; the flavour doesn't have the complexity of honey or maple syrup cures, but it was a nice change not to have the extra layer of sweetness.
The next product to get a run was the Denhay smoked streaky bacon. To showcase it, I made an Alsatian flammeküche - a flat pastry tarte topped with white cheese (I used home made labneh), onions and bacon. It made a really lovely alternative to bacon and eggs for a Sunday brunch! Rich and delicious, the subtle smokiness of the bacon was just the thing. And unlike a lot of other streaky bacon, this wasn't too fatty.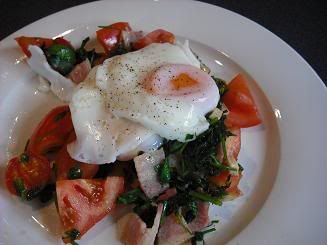 The final sample I ate by myself, while Paul was away. This was the unsmoked streaky bacon. A tomato, spinach and bacon hash, topped with poached eggs, and a courgette carbonara (eaten out of a bowl this time) were both very good ways to experience this bacon. I don't often buy unsmoked bacon, because I love smoky flavours, but this added a very nice savouryness to both dishes.
The Denhay and spoiltpig brands are definitely worth looking out for, although I'll have to see if I can find their medium-cut bacon, to see if the thickness is more to my taste.
* I was not paid to write about their products and no agreement was made as to what, if anything, I should say. These are my own views.