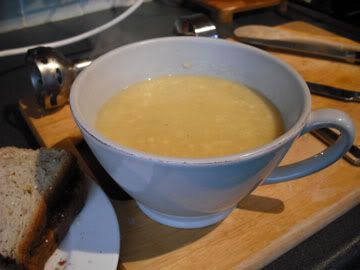 When I had my last go at making
garlic soup
, the very clever
My Year on the Grill
suggested that it could go in a completely different direction and make a garlic, cheese and beer soup. Which is clearly genius.
I based the soup on shredded leeks, and of course leeks made me think of Wales and beer & cheese made me think of
Welsh Rarebit
, so here we have Welsh Rarebit Soup.
Welsh Rarebit Soup
knob of butter
4 medium sized leeks, cleaned and finely shredded
1 head of garlic, cloves separated and peeled
1 litre vegetable stock
300 ml beer - a nice light one, not too bitter. A wheat beer or something. I used a Belgian lager which was absolutely vile and didn't do me any favours
300 g strong cheddar, grated.
1 heaped tablespoon French mustard
Freshly ground black pepper
Melt the butter in a large saucepan. Add the leeks and garlic and sweat gently until the leeks begin to collapse. Add the vegetable stock, bring to the boil then lower the heat, and simmer for about half an hour. Add the beer, then puree roughly with a stick blender. Doesn't need to be totally smooth. Add the mustard and cheese and reheat gently until the cheese is melted and the soup is just about to boil. Season with pepper and serve with hot buttered toast.