We get a weekly fruit box delivered to work. This is a brilliant thing - it somewhat mitigates the temptation to snack on chocolate and cake in the mid afternoon - but some of the choices are a bit eccentric. A whole coconut is not easy to eat in an office environment. Neither is a whole pineapple. Watching someone take a bite of what they think is an orange segment, only to discover it is grapefruit, is a perfect comedy moment but not a very useful piece of fruit for eating out of hand.
So. I had 5 pink grapefruit on a Friday afternoon, looking unloved and slightly the worse for wear, so I took them home to give them a little TLC.
I used some zest and juice to create lovely fluffy marshmallows. I used
this recipe
but used grapefruit juice instead of water both to dissolve the gelatine and to make the syrup, and added the grated zest of one of the grapefruit to the gelatine mixture. The texture wasn't 100% perfect - the fact that I was using a manual eggbeater pretty much meant I gave up whisking too soon - more like Turkish delight than a commercial marshmallow, but the flavour was brilliant. The grapefruit gave it a real tang and a much more grown up flavour. I can totally see why posh marshmallows seem to be having a bit of a moment.
Then I used more rind and juice to make some grapefruit jellies, also known as Pâtes de Fruits. I followed the method for
Dan Lepard's mulled wine jellies
, substituting the juice for the fruity liquidy bits in the recipe and adding the finely grated zest of one grapefruit. These actually weren't very successful. They weren't remotely pink as you can see, but they also had very little grapefruit flavour; the overwhelming flavour was apple from the pectin. And strangely, the combination of apple and grapefruit actually tasted a bit like mango.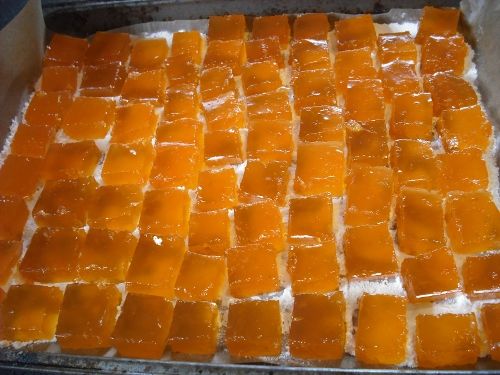 second attempt at the jellies
I thought it over for a couple of days, then melted down the jellies with the juice and zest of another grapefruit, brought it back up to 106C and re-set them. Second time around they were delicious and very grapefruity!
The remaining grapefruit peels I turned into orangettes (pampelmoussettes?) - I carefully scraped away all the pith, blanched them in 3 changes of water then boiled in a simple sugar solution until translucent, rolled in granulated sugar and then left overnight to dry out a little. I decided to give them a bit of extra prettiness with pink sparkle sugar and some white chocolate. I didn't want to waste the rest of the melted white chocolate, so I stirred it into my coffee. It seemed like a good idea at 7 in the morning.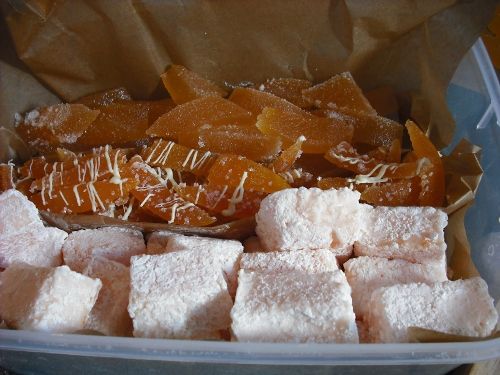 Grapefruit returning to the office in a more user-friendly fashion