My dear friend and dance partner Sharon is getting married in a couple of weeks. This is cause for great joy because she is awesome, her fiancé (a slender man referred to by my husband as "Sharon's portly lover") is awesome, and as a couple they are really brilliant. Unfortunately, the wedding is happening in Scotland and we're not going to be able to go. Still, it gave us a very good excuse for a celebration involving quite a lot of cake.
Sharon's bridesmaid lives in Scotland, and she was herself a bit preoccupied with preparing for her professional viva (and organising a wedding) so I offered to book something for a small group of her London-based friends. Afternoon tea is a very good way to do a low key but luxurious pre-wedding-but-not-hen-party celebration. A lot of the afternoon teas in hotels in London are absolutely extortionate, but you honestly don't have to spend a huge amount of money to have a good one. I settled on
Bea's of Bloomsbury
, although it was the St Paul's branch not, in fact, Bloomsbury. It's a funny thing to be in the City of London on a Saturday - hardly anyone around and many of the shops don't even bother to open.
There were a few little niggles with the booking process (i.e I chose the day when they were changing the system they use and I slipped through the gap, then the email address on their site was the wrong one, rapidly resolved through speedy tweeting to @beas_bloomsbury) but once the booking had actually been accepted, it was pretty much plain sailing.
The savoury component of the tea was a selection of filled baguettes. These were lovely - really good bread, with a lovely crackling crust. There were goats cheese and sun dried tomato; mozzarella and pesto; ham and mustard; and chorizo. Not your regular afternoon tea finger sandwiches at all. But the thing is, I like your regular afternoon tea finger sandwiches! I'd spent the journey into London in a reverie about smoked salmon, egg and cress, and delicious cucumber sandwiches, so I was a little discombobulated to be denied them. Baguettes are also quite a bit more filling than finger sandwiches, so I didn't really feel able to do justice to the sweet stuff on offer.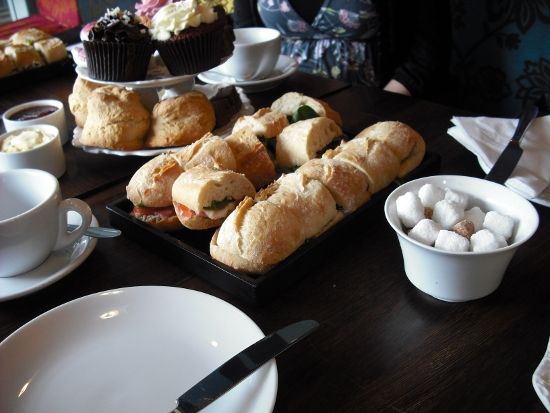 Filled baguettes
And what a lot of sweet stuff there was! Scones, a selection of cupcakes, marshmallows, meringues and three kinds of brownies. The scones were perfect, served with proper clotted cream and jam (the waiter proudly announced that they have started to make their jam in-house, which is worthy, but they need to buy some Certo - it really needed a better set). The mango and strawberry marshmallow was also excellent, if not quite as interesting in flavour as my
pink grapefruit ones
. Next I ventured upon one of the pretty raspberry meringue hearts, which were nice and chewy in the middle and given a good bit of zing by the raspberry gloss on the outside.
At that point I was mostly defeated, although after a time I rallied enough to go halves in a delicious coffee-topped cupcake. I just couldn't face the brownies, blondies or chocolate and nut killer brownies. The doggy bag that Sharon took home to her portly lover contained 3 whole cupcakes, quantities of brownies and a few meringues.
Everything we were served was excellent (the "champagne tea" is served with actual Moet et Chandon champagne, not a cheaper sparkling wine), the presentation was very pretty, the room was lovely and filled with natural light and the staff were all charming. My only real gripe was that it was all quite unremittingly sweet. Maybe two of the brownies and the marshmallows could be swapped out for a slice of tarte au citron, or a tarte aux fraises or even a shot glass of lemon posset. Just something of a less cakey texture and less cloying sweetness to mix it up a bit. Fantastic value though, at £24.50 for the champagne tea, and well worth it for someone with a serious sweet-tooth.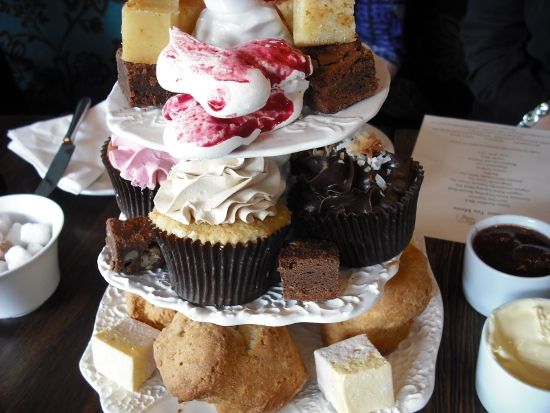 Scones & cakes




After tea (more than 3 hours later) we were a bit unwilling to call it a day. One of the girls, while trying to get her over-tired baby off to sleep by wandering around with him, had noticed that there was a
roof-top terrace and bar
in the building, so we trooped up for a stickybeak. Fabulous view. The sun was in the wrong spot so I couldn't get a nice picture, but you are on a level with the dome of the cathedral and it's RIGHT THERE.
The bar
had comfy leather seats and windows that reminded me oddly of Jabba's sail barge in
Return of the Jedi
, but fortunately fewer slave girls in bikinis. Although I suspect that on a Thursday night when all the City boy trader douchebags are spending up big, the slave girls would be arranged. For a quiet amaretto sour in good company on a Saturday evening, it was perfection. And a fellow patron admired my red patent boots, which is all I really ask of a venue.