I think my biggest food discovery over the last couple of years has been the digital thermometer. It's so amazing. It takes so much guess-work out of cooking - the jam setting point, the perfectly cooked piece of meat, the optimum milk temperature for making cheese. And of course, achieving the magic 180C for deep-frying to the perfect, greaseless crispness.
This has resulted in a lot more fried food! Not that I am complaining. It has been thoroughly delicious and it hasn't happened more than once a week! It's just nice to have an extra technique under my belt for the days when deep-frying is the right thing to do.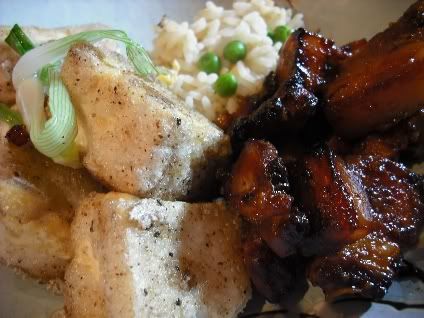 Leaf, the Indolent Cook
, was the source of this utterly perfect salt and pepper tofu. Crisp and spicy outside, gently custardy in the middle. It sat happily next to some pork belly cooked in yellow bean paste and some egg fried rice.
I think salt and pepper tofu is a very good way in to beancurd, if you are one of the doubters!
One of the curses of my existence (warning: middle class problems ahead) is the KFC at the end of the street. It attracts a Rougher Element who throw rubbish over our fence and make a lot of noise. I also think the food is pretty horrible. So I am very glad that my new frying skillz mean that when I have the fried chicken urge I have no temptation to patronise them.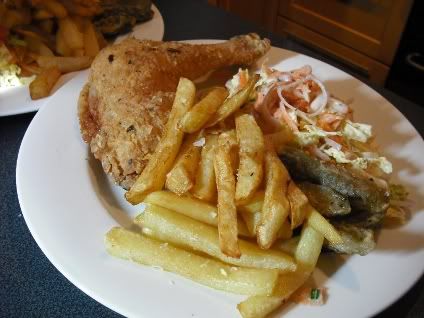 This example of my fried chicken prowess was particularly brilliant. It really was. The chicken was just thoroughly dredged in flour seasoned with salt, pepper, paprika and thyme. The chips were twice cooked (I can't be bothered with the triple-cooked thing) and the pickle spears were rolled in egg before being dredged with the seasoned flour. A spicy vinegar slaw finished the plate.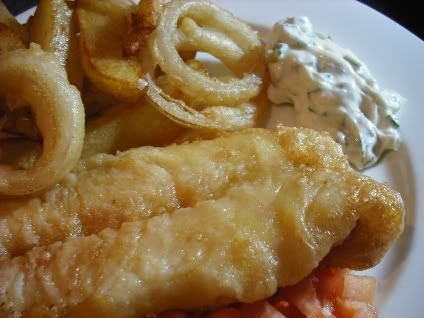 I've also had a crack at homemade fish and chips. While I love our local chippy, they are a bit vague when you ask them questions about the sustainability of the fish they source. Being able to use day-boat caught Cornish whiting for my fish and chips, in a very light beer batter, is pretty exciting for me. Chunky chips, onion rings (soaked in milk, then dipped in the beer batter), tomato salad and home made tartare sauce made the fish a feast.
Now, the giveaway. On Monday, Paul and I are participating in a blogger cook-off, in association with
Bordeaux Wines
. On Monday we will have two hours to make a main course to be matched with a Bordeaux wine using our main challenge ingredient and other surprise ingredients. It's going to be a lot of fun! Our main ingredient is salmon.
I have four Wines of Bordeaux goody bags to give away, which include a tote bag, a very effective bottle-opener (I have one, it's awesome) and lots of really useful maps etc for planning your next French wine-tasting holiday. To win one of these goody bags, please leave a comment telling me what your favourite salmon dish is (UK readers only please) by Monday night, 23rd January, (2200 GMT) and I will select four random entrants to receive a goody bag.