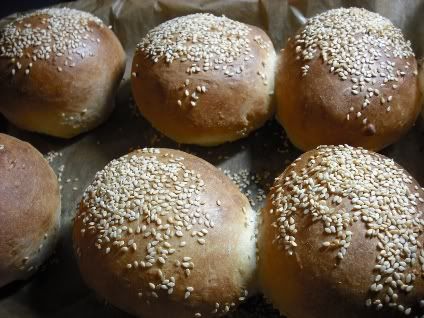 These buns are intriguing
. It's a good thing the introduction says "Don't be afraid of the custard powder" because without that I would have been very, very scared of the custard powder! It just sounds so bizarre, to make a pot of Bird's then mix in the flour and salt, but I know by now not to doubt Dan Lepard and these buns really are excellent.
We were just having burgers for dinner at home, so I made large buns, not dainty little slider buns. I also didn't have an egg so I glazed them with milk.
My burger patties were made from an equal quantity of bison mince and 12% fat beef mince, with a little chopped garlic and salt and pepper mixed in. I usually just do salt and pepper, but Paul particularly wanted garlic in them. They certainly don't need anything else added.
I split the buns, piled in some shredded lettuce and topped with a cooked burger, with some mature cheddar melted on, and a good spoonful of chilli relish.