The current selection for
Cook the Books
is an old favourite of mine - Victoria Abbott Riccardi's memoir of her time in Kyoto studying tea
kaiseki
,
Untangling My Chopsticks
. The extraordinary whim of living in Japan to study the food that goes along with a tea ceremony is captivating.
As I was re-reading this book over the Christmas / New Year break I was particularly struck by the New Year's Eve that Victoria spent in Kyoto, being wrapped in a traditional kimono and preparing an o-sechi ryori with her friends. They were headed into the Year of the Rabbit. I realised that we were also heading into the Year of the Rabbit - 24 years since she had her Japanese sojourn.
I don't have it in me to do the sort of presentation that is described in the book. My middle name would be slapdash if it didn't happen to be Clare. So I decided to follow my own path of nostalgia through Japanese food.
When Paul and I were getting to the point where marriage looked like a possibility, or even a probability, we used to go to a wonderful
izakaya
in Sydney called
Toriciya
. Paul would drink sake and I would drink umeshu and we would order some snacks. The
ika geso age
, cooked in a battered old cast iron pan, were so good that we would often finish our order and get a second round of squiddies. They never seemed to mind, and we never knew if that was because they liked us enjoying our food or they were too polite to point out that we were being crass.
I couldn't get the tentacles, so our starter was crisply fried marinated squid hoods. Absolutely delicious. If we hadn't had a lot more food to get through I would have made more.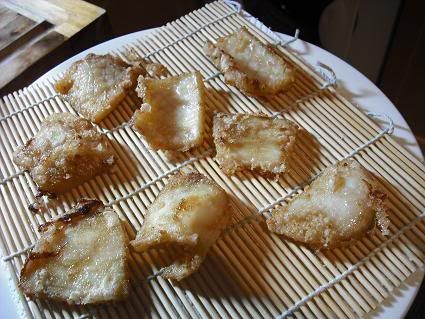 For our main course, I made some beef and spring onion negimaki rolls (mostly because we had some steaks, cut a bit too thin for my liking, in the freezer) and
nasu dengaku
. Another restaurant we used to frequent in our early days together used to prepare this dish of aubergine glazed with miso dressing so beautifully that I think it spoilt me. Certainly my version (prepared to their recipe) was a bit too salty and not nearly as luscious.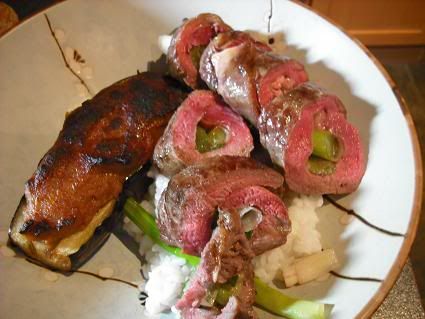 With the negimaki and nasu dengaku I served rice, miso soup and pickles. I chose
beni shoga
and
umeboshi
as my pickles because I felt that their red colour was the right festive red against the white rice for January, and I thought that the sweet spiciness of the ginger worked against the mouth-pucker sour saltiness of the plum. And I love beni shoga with beef.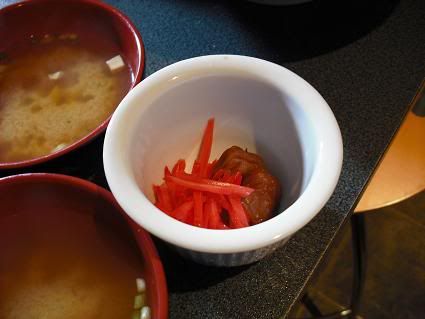 For dessert I came back to an old familiar position: Paul hasn't got much of a sweet tooth. So I made yet another variation on one of the things he does like, tiramisu.
Green Tea Tiramisu
(serves 2)
3 savoiardi biscuits (I had leftovers from Christmas)
1 sachet instant iced green tea
1 egg, separated
1tbs caster sugar
2tbs cointreau (cointreau and green tea is magic together. You wouldn't have thought it, but the combination is brilliant)
250g mascarpone
Put half the sachet of instant green tea in a small jug and add 75ml of cold water, and stir until dissolved. Divide the biscuits, broken in half, between two glasses. Sprinkle with the tea mixture.
Over a pan of simmering water, whisk the eggyolk, sugar, most of the remaining instant tea and cointreau, until it is thick and frothy. Off the heat fold in the mascarpone, and then the eggwhite, beaten to soft peaks.
Dollop the mascarpone mixture over the tea-soaked biscuits.
Sprinkle the very last of the sachet of instant tea onto the surface of the mascarpone. You can't tell from the picture, but the green blob on mine was
actually
a Japanese maple-leaf shape.
Chill for an hour or so before eating, to allow the biscuits to properly swell and soften and the flavours to combine.