Don't forget everyone, you have until Friday, March 26th, to get on board this round of
Cook the Books
. We're reading
Like Water for Chocolate
and cooking dishes inspired by it.
Now, I have decided what I am going to cook. I think. I am pretty sure. But I have noticed that some of the spicy flavours in the book are already sneaking into my cooking! To go with
Delia's chilli
, I was planning to make some cornbread. But when I opened the cupboard I discovered that we were out of polenta. So I did an audit of the pantry and fridge and then hit Google, coming up with this excellent recipe for a
savoury spicy pumpkin bread
. I used some of my frozen whey supply instead of milk, but otherwise followed the recipe.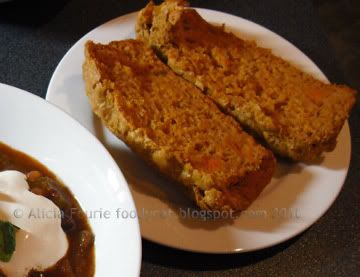 It was very successful! Moist, pumpkin-y and with a definite kick. It was also wonderful toasted under the grill and served with cheese for an easy lunch.
I also had most of a tub of cream in the fridge, plus quite a lot of chocolate in the pantry. Several people had given us beautiful artisan dark chocolate for Christmas, but sadly most of it had bloomed. Perfect for cooking, not so good for eating straight. I decided to make a half quantity of
Jamie Oliver's chocolate pots
, and spice them up a bit. Instead of the brandy, I used half a tablespoon each of good rum, vanilla extract and maple syrup (the extra bitter dark chocolate I was using was a bit much) and added a small amount of cayenne pepper and cinnamon - just enough to give a subtle warmth, not a flavour.
It was pretty cold in my kitchen, so I allowed them to set slowly at room temperature, and garnished the top of each with a tablespoon of cream, so it had a smooth, white surface. It made 2 ramekins-worth, but each ramekin served 2 people generously. It is very, very rich! If I were making it to serve to people I am not married to, I'd make it in shot glasses.