When I first read Laura Esquivel's magic realist novel
Like Water For Chocolate
, many years ago now, I absolutely loved it. I was delighted to have the opportunity to re-read it for this round of the
Cook the Books Club
.
Sadly, I didn't love it this time around. Pedro is such a waste of space, that it makes Tita's love for him completely inexplicable. I still liked the food bits, but my irritation at Tita and Pedro got in the way of real enjoyment. I also found the writing style a bit jejune - simplistic, immature and dull. I had no insight into any of the characters and I didn't much care what happened to them. Such a shame - I would have been better off sticking to my memory of loving it!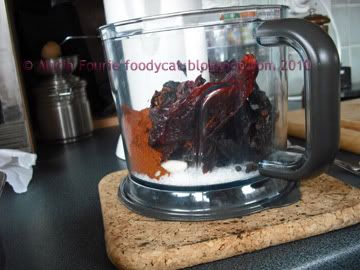 It didn't take me long, though, to decide what I was going to make, inspired by the book. The description of Tita's painstaking preparation of the chorizo drew me in, and I was very keen to make some - although in a much smaller quantity and without nearly as much chilli!
I did a bit of a search and came upon
this collection of different recipes for Mexican-style chorizo
. I decided that the most do-able one, with the nicest-sounding seasoning, was the last one on the page. It contains ancho and pasilla chillies, coriander, cumin, paprika, cloves, oregano and garlic. How wonderfully fragrant and delicious!
Once I sourced my chillies (from the
Cool Chile Co
) I was able to get under way.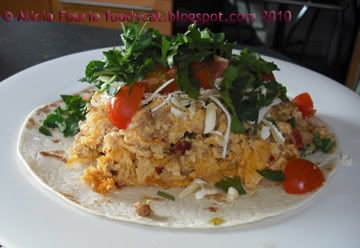 Of course, once I had my batch of chorizo, I had to decide what to do with it. I made a Sunday breakfast of chorizo con huevos - eggs scrambled with chorizo. I served it on a warm tortilla, topped with grated cheese, quartered cherry tomatoes and chopped coriander.
To my surprise, the chorizo was actually a bit lacking in flavour, although the smoky chilli flavours were quite good. So I turned the rest of the loose chorizo back into a mixing bowl and added 1 tsp smoked paprika, 1 tsp cayenne pepper and another tsp of salt. Much improved! I think Mexican chorizo is going to become a much-favoured ingredient around our house!