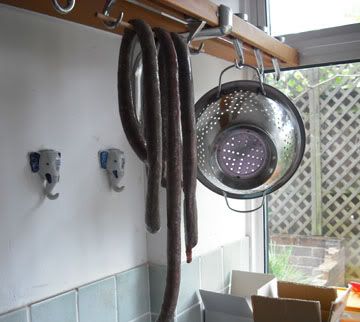 Of course, once you have a few kilos of
boerewors
made, you have to think about how to preserve it.
A bit of it we ate straight away (quality control, of course). A bit more we ate later that evening. Most of it, we portioned into coils, tucked the coils into freezer bags and stuck them in the freezer as soon as possible. But we just couldn't resist turning some into droëwors. We're both suckers for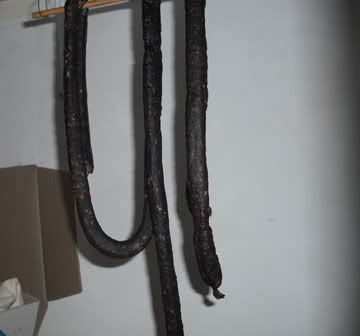 this intensely spicy, chewy dried sausage. It's the best thing in the world with a glass of cold beer and it ranks up with biltong as one of Paul's favourite snacks to take fishing.
It was really straightforward. We took a couple of lengths of fresh boerewors, sluiced it down with vinegar and hung it in the kitchen over a chopstick over night. We wanted
to get the worst of the dripping done in the relative hygiene of the kitchen.
The kitchen is, however, too humid to do all of the drying - droëwors needs to be made with quite thin sausages and needs to dry rapidly so it preserves before it spoils. So once the surface was quite dry, we shifted the MacGyveresque wire-and-chopstick array to the spare bedroom wardrobe.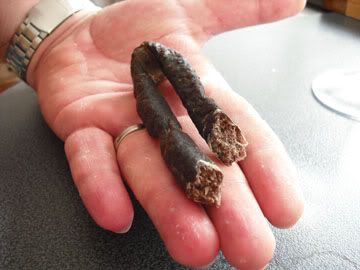 Our portable dehumidifier completed the job.
It took 5 days to achieve the properly dessicated finish - dark brown, slightly shiny, with knobbly bits where the casing contracts against residual peppercorns and bits of coriander.
And it was absolutely perfect! It had just the right texture - almost honeycomb - and the flavour of the vinegar and spices was really intensified in the drying.
I can't begin to tell you how long drying will preserve the sausage for - ours didn't see the end of the day.