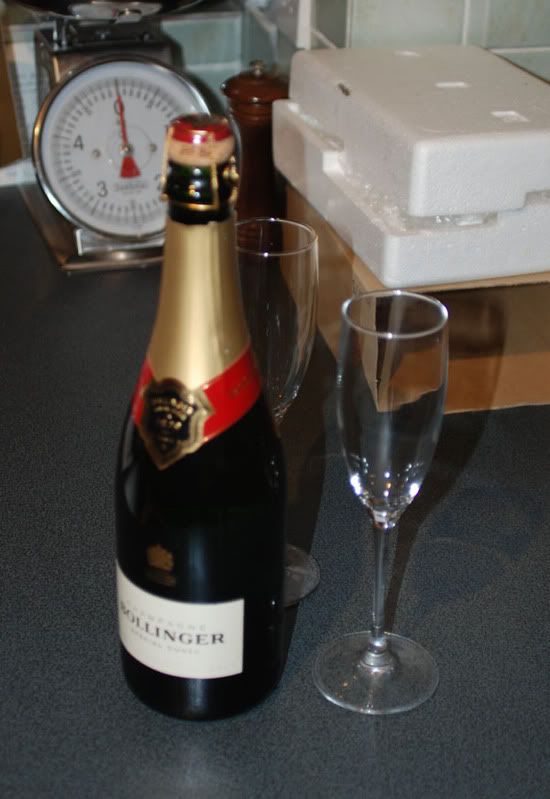 We never really "did" Valentine's Day. The cheesy commercialism and overblown sentimentality and prescriptive notion of what romance and love are about doesn't really sit too well with us.
And then we got married in the same week as Valentine's Day, so we've sort of adopted it - or the closest Saturday, which this year was the same thing - as our anniversary. But all of the things about Valentine's Day that don't sit well STILL don't sit well, so we are much more likely to cook something nice at home and sit on the sofa watching DVDs together, rather than going to a fancy restaurant and eating our way through the set menu with a rose for the ladies.
Of course, the weekend in Paris would still be nice, but I got a kitten who is too little to put in a cattery instead...
So we started with champagne. A very delicious Bollinger.
To go with it, I made some crab salad rolls. I basically wanted a light starter, that could be eaten as fingerfood. Because I was using ricepaper as my wrappers, I was a bit tempted to go with some Thai-ish flavours of ginger and coriander, but I decided to keep my flavour landscape a bit more European to match the other courses. And then I got carried away and used lime juice and Tabasco, so I strayed from Europe anyway...
Crab salad rolls
4 rounds of ricepaper
150g white crab meat
1 shallot, finely minced
Juice of a lime
1tsp double cream (if I'd had mayonnaise in I would have used that, but I didn't, so I used some cream leftover from the desserts)
2 shakes of tabasco
1 tsp tiny capers
1/2 cucumber deseeded and cut into batons
Mix all the filling ingredients. Dip a piece of ricepaper in warm water until it becomes flexible, then quickly add 1/4 of the crab mixture and a couple of sticks of cucumber and roll firmly. Repeat with the other pieces of ricepaper, filling and cucumber batons.
Try not to do these more than a couple of hours before serving, because they can dry out quite quickly, but tightly covered with clingfilm they'll be OK in the fridge for a while.
Then we moved on to the main course. Since the lovely
lunch we had in Sydney at Pilu
, I have been very keen to get some
bottarga
into my pantry. It took quite a lot of searching, but I did eventually
track some down
so I decided that it would have to feature in a special meal. I also got some lovely langoustine tails, some squid ink tagliatelle and some baby courgettes, to bring the whole thing together.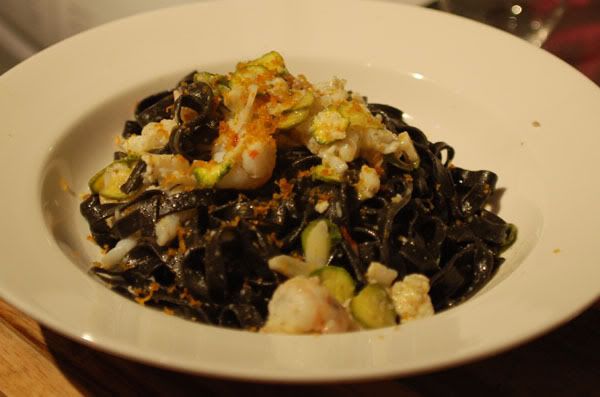 The beautiful thing about this dish - other than it being pretty and the flavours being excellent - is that it takes about 12 minutes from the water coming to the boil to pull it all together.
Valentine's Pasta
Squid ink tagliatelle (about 150g raw weight)
Olive oil
knob of butter
1/2 tsp chopped red chilli
Grated zest and juice of a lemon
3 cloves garlic, sliced thinly
12 langoustine tails
2 baby courgette, sliced into thin coins
Bottarga to finish
While the pasta is boiling, warm a slosh of olive oil in a saute pan and add the garlic and chilli. When the garlic is on the verge of sizzling, add the langoustines. As soon as they start to turn opaque add the lemon zest and courgettes.
Drain the pasta, add a good knob of butter and the lemon juice to the saute pan, swirl the drained pasta through the sauce and divide it between 2 plates. Grate some bottarga over the plates in a shower of amber dust and eat immediately. We had a 2005 William Fevre chablis Premier Cru with it which was just lovely with the sweet salty seafood and the lemony hit.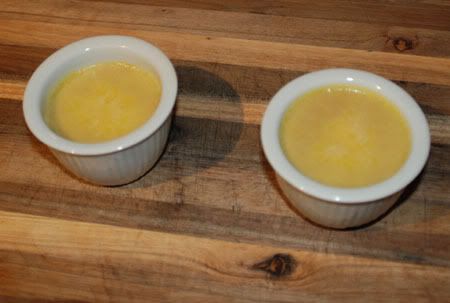 After a time, we had dessert. I had a nice bottle of
Andrew Quady Elysium
, so I thought it was time to have a proper go at the muscat caramel custard that Great Queen St does so well. This was not a success. This picture is the last moment where they looked acceptable. The custard was set but without the rich velvetyness that it should have had, it was a most peculiar pink colour from the wine and they didn't turn out properly, going *thsploodge* into the bowls without most of the caramel following. Still, drinking the rest of the bottle of the Elysium was very pleasant. And in the words of Meatloaf, "two out of three ain't bad".