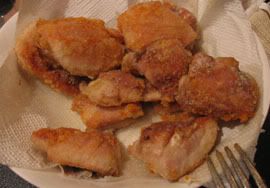 I had chicken, I wanted spice and heat, I wanted to use my new chopstick set (£2 in Hong Kong). So I did a chicken-y modification of the
green peppercorn tofu
recipe, dredging my chunks of chicken thigh fillet in cornflour before frying it really hard in a small amount of olive oil.
The chicken came out of the pan while I made the peppercorn sauce, then went back in to heat through, with some par-cooked tenderstem broccoli. Unfortunately we were out of fresh or grated ginger, so I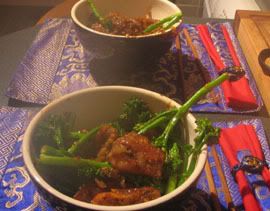 used a knob of stem ginger cut into slivers, and left out the muscovado sugar, counting on the sweetness from the ginger to balance it out. And it did.