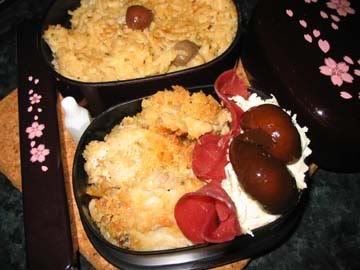 A friend of mine recently had the brilliant inspiration of portion control at lunchtime via a bento box. Such a good idea and it lets me accessorise! So with a visit to
JBOX
- offbeat source of all things cool and Japanese - I became the possessor of a bento box just yesterday.
I am not a patient woman, but I do get a bit obsessive, so I have been spending a lot of time reading about bento boxes and what goes into them. I don't aspire to ever produce works of art like
Cooking Cute
does (I will never be making pig-shaped spam nigiri), I just want to make well-balanced lunches that are aesthetically pleasing and tasty. And provide myself with a bit of entertainment.
So for my first bento box, I have gone off-piste with recipes similar to those found in Japanese food, but in this case more French. My foundation of mushroom rice was just intended to be rice cooked with chicken broth and garlic with some mushrooms added - but then I found that the only rice we've got is arborio, so I made it using more of a risotto technique (not French, not Japanese, but the rice will be easier to pick up with chopsticks). I also found that the mushrooms I had in the freezer were a combination of shiitake, nameko and shimeji so I accidentally went more Japanese than I meant to.
For my
okazu
- the things you have with rice - I made crumbed chicken pieces marinated in lemon and garlic, added some celeriac remoulade, separated the celeriac from the chicken with curls of bresaola and topped it off with a couple of pieces of
pickled tangerine
which is a beautiful accompaniment to charcuterie. I think the most beautiful thing though is my little squeezy bottle of lemon juice to squirt over the chicken come lunch time.
So there you have it. A fairly classic French hors d'oeuvre with posh chicken nuggets and rice. I am quite proud of that for a first attempt!