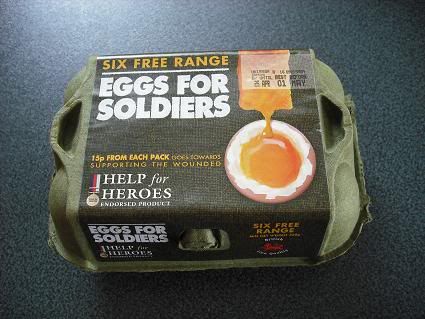 Eggs for Soldiers
is a new initiative from Noble Foods to raise money for the charity
Help for Heroes
. 15p from the sale of each half dozen free-range eggs (currently available from Tesco, with more outlets hopefully to follow) goes to help rehabilitate personnel wounded while serving in the armed forces.
Now, as it happens I am not a fan of armed conflict. I tend to think that there are very few valid reasons for starting wars, and that just because
my
government says they are right and someone else is wrong doesn't mean they are. And even if they are wrong, I don't think letting lots of young people die violently or come home broken is the best way to sort it out.
On the other hand, I also think that each individual member of the armed forces who is injured while in service deserves the best possible facilities and aids to rehabilitation. I believe that it gives some hope for the future of civilisation that in a couple of generations we have moved from
executing shell-shocked men
to building specialist facilities to provide
first class treatment for veterans suffering combat stress reactions
. If buying a box of eggs can help with that sort of progress, I think that is pretty great, really.
Now, the obvious recipe to go with eggs for soldiers would be eggs & toast soldiers - which I happen to adore. However Paul doesn't like runny egg yolk, and toast soldiers are pointless with hard-boiled, so I made something delicious where I could have my eggs nice and runny and he could have his fried to buggery, just the way he likes them.
Brisket Hash
350g leftover meat (I used some barbecued brisket)
1 small onion
2 cloves garlic
salt, pepper and parsley
oil for frying
Eggs for Soldiers and tomatoes to serve
Chop the meat, onion, garlic & parsley roughly. Pulse in the food processor until crumbly and combined but not a paste. Season heavily with pepper and some salt. This is no time for dainty flavouring.
Heat a glug of oil in a heavy based frying pan, and add the meat mixture. Fry until crispy in places and appetising all the way through. Top with eggs and fried tomatoes. Serves 2 generously (or 3 or 4 if you add some toast or fried potatoes).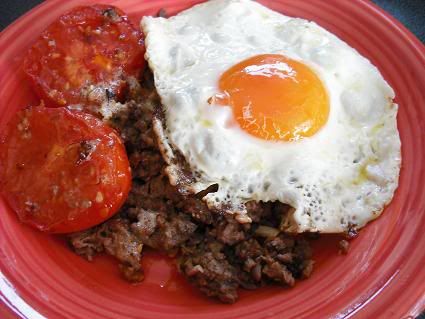 I received 2 boxes of Eggs for Soldiers but no other payment or inducement for writing about them. I am making a donation to Help For Heroes in exchange.