It's amazing how different my outlook on life is when the weather changes. A bit of blue sky and temperatures high enough to go about without socks and I feel energised and enthusiastic about life. I want to eat salads and fruit and dishes that go together in a minute and then sit in the conservatory looking at the sky. This is a really, really nice time of year.
And as I have said before, this really is the
best time of year to be eating seasonally
in England! So many delicious things have their fleeting season in late spring, it'd be rude
not
to make a pig of yourself on them!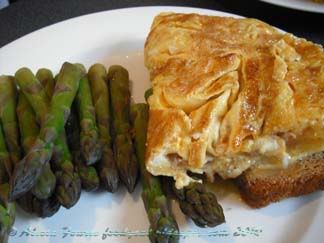 So last week we had a meal of all that is delicious and currently in season. And the best part about it was that it took all of 10 minutes preparation, and a few extra minutes cooking time. Quicker than a bowl of pasta.
We started with lightly steamed asparagus - a whole bunch each because I was feeling very greedy - alongside a big, puffy omelette filled with
home made potted shrimps
that I had in the freezer. The omelette sat on a piece of light rye toast, to soak up the delicious buttery juices. Wonderful! I've got my omelette making technique pretty much under control and I am very proud of them! But I still fold with a spatula, I don't flip them.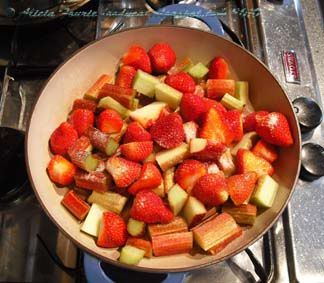 As the main course was quite light (if not precisely low-calorie) I felt justified in making a dessert. We'd bought some lovely strawberries at a local farm shop a couple of days before, but hadn't got around to eating them. So they weren't quite up to eating raw any more. So I decided to combine them with some beautiful fresh rhubarb into something with some of the delicious qualities of a fruit crumble, but slightly lighter.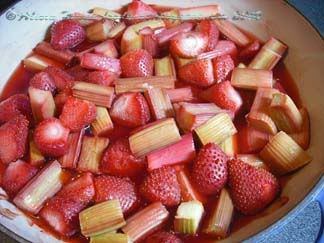 Deconstructed Rhubarb, Strawberry and Rosewater Crumble
(serves 2-4, depending on appetite and sweet-tooth)
75g rolled oats
2tbs caster sugar
1 bunch rhubarb
500g strawberries
2tbs caster sugar, extra
1tbs vanilla extract
1tbs rosewater (depending on the strength of your rosewater - you don't want it to smell like soap)
Half-fat creme fraiche
Toss the oats and 2tbs caster sugar together & spread on a baking tray lined with baking parchment. Toast under the grill, watching like a hawk and shaking from time to time, until the sugar caramelises evenly. Set aside to cool.
Cut the rhubarb into chunks, halve some of the strawberries and leave the rest whole. Place in an oven-proof dish (I used a flat enamelled cast iron dutch oven) with the rest of the sugar, the vanilla and the rosewater. Bake, uncovered, in a 180C oven for about 20 minutes or until the rhubarb is tender but not mushy. Allow to cool a bit.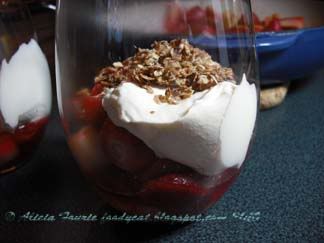 To serve, divide the warm fruit compote between glasses, top with a dollop of creme fraiche and sprinkle with a spoonful of the caramelised oats. The rosewater really brings out the rhubarb and strawberry flavour and the whole dessert sings of summer.