I think you would have to be living under a rock for the last few weeks not to have realised that Keith Floyd - television cook, snappy dresser and gastronaut - had passed away from a heart attack.
As a tribute to the trailblazer,
James
and
Julia
from the
UK Food Bloggers Association
are running a Farewell Floyd blogging event. And as it happens, Paul and I had already decided that we needed to do something to mark the passing of someone who gave both of us so much enjoyment.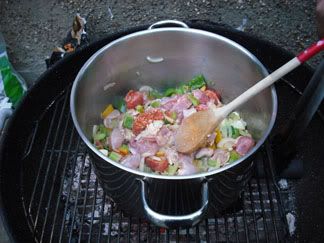 One of Paul's most treasured possessions is a signed copy of
Floyd's American Pie
, so it seemed natural that to honour Floyd we had to make something from that book. It also seemed appropriate that we should cook outdoors, in memory of all the scenes of the tide coming in mid-shoot, or the gas blowing out or any of the other hazards that befell Floyd with his location cooking.
And so it was that we settled on Jambalaya. It was Floyd who first introduced me to the notion of the Trinity - the mixture of onions, celery and green peppers that form the basis of a lot of Creole and Cajun cooking, including the Jambalaya, and it is a one-pot meal that really lends itself to outdoor cooking. It's also one of the dishes from
Floyd's American Pie
that Paul has cooked the most often. I didn't totally follow the recipe, I approached it more as a guideline for a dish.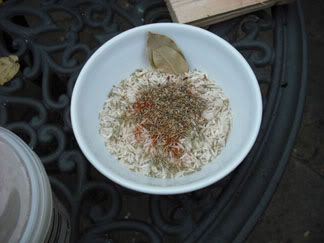 I don't have enough bowls to do a really cheffy mis en place - and the patio table is too small, so I simplified. One bowl contained my Trinity. One bowl of diced chicken thighs, sliced spicy chorizo and whole cloves of garlic. One bowl of long grain rice, oregano, sage, cayenne pepper and a couple of bay leaves. One large measuring jug of diced tomatoes and chicken stock. And of course, several glasses of wine so I could have a little slurp while I cooked.
Paul made quite a hot charcoal fire in the Weber, and worked his magic on it to keep it stoked for the full cooking time.
I heated the saucepan and then add a good slurp of olive oil. When it was beginning to sizzle I added the Trinity and cooked that until it was translucent. Then I added the chicken and chorizo and gave that a good browning. When the lovely red oil from the chorizo was flowing nicely, I added the rice, herbs and then the liquid. Covered the pan and cooked it until most of the liquid had evaporated. Just before it was done I stirred through a handful of raw, peeled prawns. As soon as the prawns were pink and opaque, it was time to eat.
Vale
, Keith.