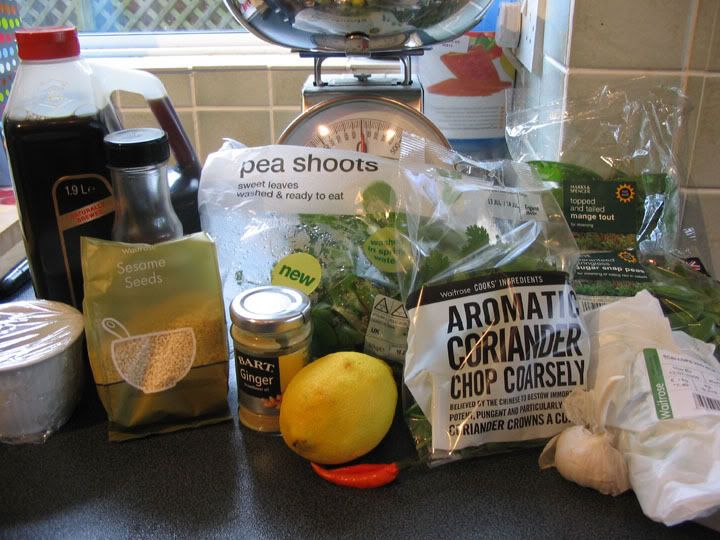 Peter from Kalofagas won last month's
Royal Foodie Joust
with a magnificent
Apricot and Pistachio Cake
, and for this month nominated seafood, sesame and coriander as his challenge ingredients.
That said "Thai" to me, so I worked on a vaguely Thai-inspired warm salad. I wanted lots of fresh flavours and contrasting textures to show the ingredients to their full advantage. And it worked out pretty well.
So I am proud to present as my entry to this month's Foodie Joust:

Sesame scallops, 3-pea salad, coriander chilli dressing
For the Scallops
300g large scallops, roe-off
1 eggwhite, lightly beaten
sesame seeds
oil for frying
For the salad
1 bag of pea shoots
1 bag of mangetout (topped and tailed)
1 bag of sugar snap peas (topped and tailed)
1/2 package of coriander leaves (stalks removed and reserved)
For the dressing
Reserved coriander stalks
1/2 tsp chopped fresh ginger
2 cloves garlic
1/2 tsp sugar
1 small red chilli
1 tbs light soy sauce
2 tbs cold water
Juice of 1/2 a lemon
4-5 drops toasted sesame oil
Dip half of the scallops into the eggwhite, press into the sesame seeds and chill for half an hour (I decided not to do all the scallops because I didn't want the sesame flavour to be too dominant).
Blend the dressing ingredients - not too thoroughly, some chunky bits are nice.
Blanch the sugar snaps and mange tout and combine with the pea shoots and coriander leaves.
Sear the scallops in a little oil until nicely coloured, turning once.
Toss the salad with half the dressing, divide into 2 big bowls, top with the scallops and drizzle with the remaining dressing.
Serves 2 as a substantial dinner.