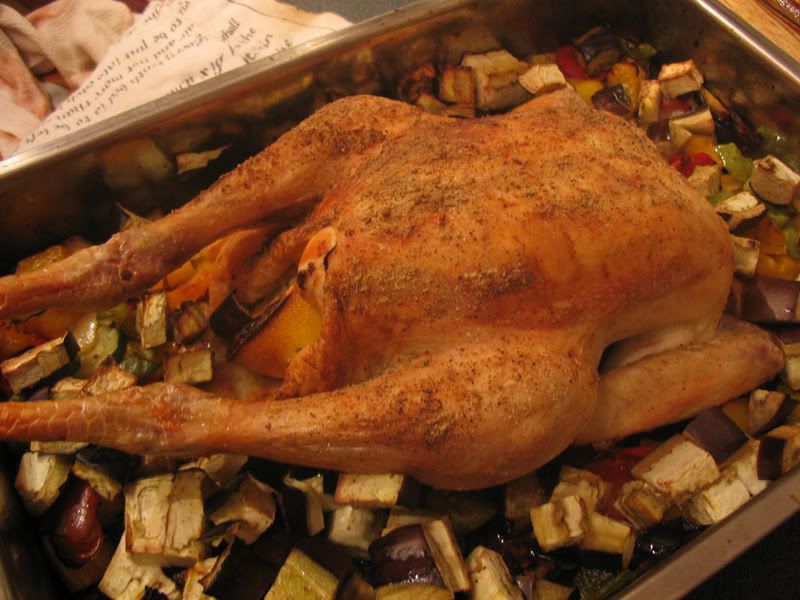 There has been so much in the press recently about chicken - Hugh Fearnly Whittingstall has wept, Jamie Oliver has argued with the supermarkets, Delia Smith has said the poor need battery chickens. I'm not going to recap. I am not going to point out that other intensively-reared animals have it just as bad. What I am going to say is that I think a country has its priorities wrong when minimum wage means you can only afford to eat meat raised in cruelty. At the moment, eating free-range, organic chicken regularly is indeed a middle-class luxury, but it shouldn't be that way. If society has a genuine interest in the welfare of animals, then it should back it up. I haven't actually thought through the mechanism of avoiding inflation, if wages were increased to the point where high-welfare chicken becomes affordable, but it must be possible.
Meanwhile, being comfortably middle-class, we would eat a roast free-range organic chicken about once a fortnight. A smallish chicken feeds two of us with leftovers and it really is just about the easiest meal in the world. We've pared back a lot of the trimmings - no roast potatoes, no bread sauce, no stuffing, usually only a couple of vegetables - and now with about 10 minutes effort and 1 hour cooking, we get a lovely meal. I've tried a lot of different bastes and flavoured butters and things put under the skin (most successful on the occasion when I made an apple aioli that was too garlicky to eat as a sauce), but most usually we do it like this:
Remove the elastic bands holding it trussed (cooks faster), put a couple of peeled cloves of garlic in the cavity, squeeze the juice of a lemon all over the skin and put the juiced half in the cavity (the heat of the oven releases a lot more juice), season liberally with salt and pepper, and scatter a few more cloves of peeled garlic around the bird, then roast in a hot oven for an hour. When it comes out, it rests on our nice wooden carving board and I use a fork to crush the roast garlic into the juices in the pan over a low heat and reduce it to a light gravy, pouring in more juices as the collect on the carving board. Delicious! Sometimes we'll pile veg around the bird, but that isn't really as good because the skin doesn't crisp as nicely with all the steam from the veg. So when I do it tonight, the veg (aubergine, pepper, marrow, onion, cherry tomatoes) will go in a separate tin in the top oven while the chicken goes in the fan-forced bottom oven. Couldn't be simpler, and there is so little washing up.