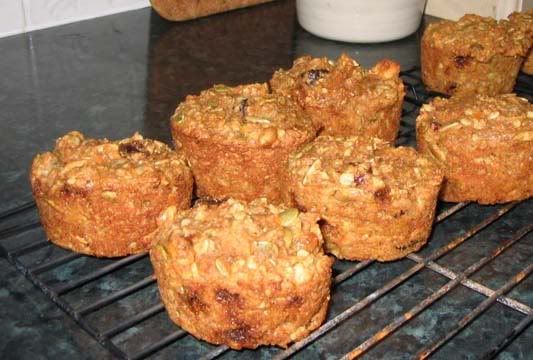 It's a cold, rainy day. Far too cold for August. Having been raised with a certain spirit of frugality, I point blank refuse to put the central heating on before the end of October, but I had to keep myself active to stay warm. Sorting the wardrobe for the charity shop occupied some time. Doing some laundry likewise. But cooking gave me the excuse to be in the nice warm kitchen AND make something to stoke the internal fires.
A pot of Delia's
Fennel Gazpacho
will provide me with lunch for a couple of days. Such a flavoursome soup, if it's too cold to eat it chilled it'll be lovely reheated too. A batch of chorizo and rocket muffins from one of Julie le Clerc's books turned out unexpectedly well too. And to round out the day, some health muffins.
I'm really quite proud of the health muffins - I think they are the only cake that I have successfully developed:
150g wholemeal S.R flour
60g oatmeal
1tsp ground cinnamon
pinch of salt
90g soft dark brown sugar
1 large carrot, grated (I leave skin on)
40g dates, roughly chopped
80g dried apricots, roughly chopped (the important thing is 120g total dried fruit - this is the best combination so far but sometimes sour dried cherries are good instead of the apricots. The dates make them moister and more luscious, so I hardly ever leave them out)
120g walnuts, roughly chopped (again, it can be any combination of nuts, but the walnuts work really well but my husband prefers a combination of pumpkin seeds and sunflower seeds)
1 large green apple, grated (I quarter it, it core it, but leave the skin on - it ends up with some green skin in, but it sort of grates off the skin and is quicker than peeling first, I think bramleys are the best for this because they are so juicy when you grate them)
2 medium eggs
60g butter, melted (you can use veg oil if you prefer)
1tsp vanilla extract

Makes somewhere between 9-15 muffins, depending on your tin. I use a friand tin because I find they are the perfect size to just have one for breakfast.

Use a brush dipped in the melted butter to grease your muffin tins.

Preheat oven to 180C. Put the flour, oatmeal, cinnamon & salt into a large bowl. Add the sugar (which clumps together, so stir it well into the flour), carrot, dried fruit & nuts & apple and mix until combined. Add eggs, the rest of the melted butter and vanilla and mix until combined. These are quite forgiving, you can mix them harder than average muffins and they don't go leathery.

Spoon into greased muffin tins and bake in preheated oven for 20-25 minutes (depending on size), or until risen and browned. They don't rise that much because there is so much stuff in them!

From these basic proportions you can vary it quite a lot. Today's batch only had 60g dried fruit (sultanas and cranberries) because I added a mashed banana, and instead of the nuts I used 60g sunflower seeds and 60g pumpkin seeds. They look quite virtuous, but they taste wonderful!